TireTraker™
Tire Pressure Monitoring Systems
Progressive Industries
Voltage and Surge Protectors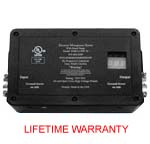 About TireTraker™
Many vehicles - trucks, RVs, fifth wheels, etc. have dangerously under-inflated tires primarily because drivers have very few cues to check their vehicles' tire pressure until the pressure is extremely low. Most tires lose air pressure due to natural air leakage and seasonal climate changes. Driving with under-inflated tires could increase your risks. The primary dangers and consequences of under-inflated tires are:
Reduced Vehicle Safety
Tire Failures

Increased Stopping Distance

Reduced Tread Life

Reduced Fuel Economy
The TireTraker™ TT500 RV Tire Pressure Monitoring Systems can protect you and your family as you travel the countryside. The TireTraker™ TT500 systems utilize state of the art technology to continuously monitor tire pressure and temperature unobtrusively. The TireTraker™ TT500 RV Tire Pressure Monitoring System is a low profile, easily installed, all-in-one functional design.
In addition to your RV, your trailer and tow vehicles can also be monitored. The towed vehicle tire pressure monitoring system is part of the RV system, so there is no additional cost for the added value and safety provided.
Read more about the significant cost savings you will realize by purchasing the TireTraker™ TT500 TPMS over competitive models.
About Progressive
Your Shore power hookup may 'appear' to be OK, but it is not always what it 'appears'. Your electrical needs for your RV can range from lighting to running large appliances such as microwaves, refrigerators and air conditioners. Most RV's now have TV's and other electronic equipment that need to operate at correct voltage.
Campground and other shore power service can vary widely, and without the proper equipment, you may be taking a risk when you initially connect, and that risk might occur after you have connected at any time. Progressive Industries Voltage and Surge Protection products are designed to continually monitor your electricity, even when you're away from home.
When you initially connect to shore power, our products will detect wiring problems at the power source and prevent power from entering your RV. Once connected, low and high voltage is something that can be a real problem. That problem may not appear immediately, but it will adversely affect your appliances and electronics after continued exposure. An open neutral on 50 amp service can result in severe consequences - allowing 240 volts to enter your RV. Electricity is dangerous, and your protection is something that should not be treated lightly.
Progressive Industries understands the needs of RV'ers, and has been manufacturing Voltage Protection Units (EMS), Surge Protectors and other high quality adapters and connectors for over 13 years to serve the needs of today's modern RV's.